At Bluecanoby Sports we have created our products for before, during and after training, essential if you lead a fitness lifestyle and want to get the most out of your training.
The following is a brief description of our "Nutrition care" line, which is ideal to complement your training.
NUTRITION CARE: XTREME MAGNESIUM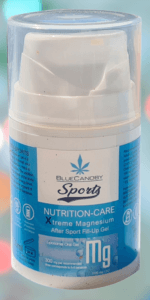 This is an oral magnesium gel, a simple way to replenish magnesium levels after exercise.
Properties:
One adult serving provides the same amount of magnesium and vitamin B6 as 6-8 bananas.
Benefits:
Helps to counteract fatigue and exhaustion caused by fitness.

This product is based on CBD, which causes a rapid regeneration of the body.

It quickly restores energy levels. 
Content:
Recommended adult dose: 3 drops per day. The product taken without liquid provides 300 mg (80%*) magnesium and 3 mg (214%*) vitamin B6. 
*EU nutrient specification.
NUTRITION CARE: XTREME B12 Boost, liquid spray

This spray is for oral consumption and helps to replenish vitamins after training.
Properties:
our spray is a B12 booster and combined with CBD it supports the nervous system.
Benefits:
Promotes the formation of red blood cells

Boosts the immune system 

Reduces tiredness and fatigue
Content:
Empfohlene Dosis für Erwachsene: 2 Sprühstöße pro Tag 1000 ug (40 000 %*) Vitamin B12.
Bluecanoby Sports and Fitness
All Bluecanoby Sports products are manufactured in certified laboratories, dermatologically tested and strictly controlled.
In collaboration with our partner companies, we are developing new and innovative formulas, and we are currently offering these products for on our website: https://bluecanoby-sports.com/gb/ 
If you would like to know more about this new brand, please do not hesitate to contact us.
YOU MAY ALSO BE INTERESTED IN